Jabra BIZ 2400 II Duo QD Headset (Mic. 82 NC, Wideband) (2489-820-209)
Jabra BIZ 2400 II Duo QD Headset (Mic. 82 NC, Wideband) (2489-820-209)
Details
Customers also bought
Reviews
Jabra BIZ 2400 II Duo QD Headset (Mic. 82 NC, Wideband)
Jabra BIZ 2400 II Duo QD Headset is an improved model of the popular Jabra BIZ 2400 Headset. This specific headset offers both Mic. 82 noise cancelling and wideband audio quality.
Offering outstanding audio and sound quality, the Jabra BIZ 2400 II QD Headset is integrated with ultra noise cancelling technology, HD voice technology, and Hi-Fi sound quality that offers crystal clear conversation on both sides of the communication.
More Product Information
Brand:

Jabra- BlueParrot/VXi

Product Type:

Duo Corded Headset

Wearing Style:

Over-the-head & Behind-the-neck

Colour:

Black

Condition:

Brand New

Connectivity:

Quick Disconnect

You can have more details on this awesome product by talking to our company experts at Australia wide 1300 131 133!

10 Top Features of Jabra BIZ 2400 II Duo QD Headset
PeakStop Technology for Superior and Safe Sound Hearing Protection
Ergonomically-designed and Light Frames for Talking in Comfort
Super Soft Leatherette Ear Cushions
Adjustable Headbands and Microphone Boom Arm
HD Voice Technology for Crystal Clear Conversations
Noise Cancelling Technology on Microphones for Reducing Unwanted and Distracting Background Noises
Air Shock Feature on Microphone for Not Wanted Pops
Multi-device Connectivity in Managing Call from A Single Headset
Jabra FreeSpin Boom for Unbreakable Microphone Boom Arm when Adjusted
Kevlar-reinforced Cords for Improved Toughness and Durability

About Jabra
Jabra is a popular developer of corded and wireless headsets. It is a leading enterprise in the development of technologies and solutions capable providing customers the best audio and sound experience. Some of these headsets can be connected to mobile devices while some are only compatible to PCs. These products are used in office-based locations and contact centres.
Jabra has set the standards towards what the international market considers as excellent audio quality and what it considers to be below the line. Since its establishment in the year 1869, it has effectively operated in the global market with its main headquarters located in Copenhagen, Denmark.
Jabra aims to be able to engineer sounds to be specific to the needs of customers. It has an excellent track record, developing the very first in-ear integrated speaker and microphone. It is also responsible for inventing and patenting EarGels, as well as the development of the DSP-based noise and echo cancellation technologies and the over-the-air headset tuning.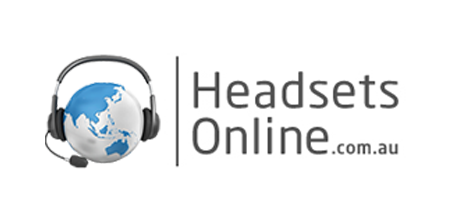 About HeadsetsOnline
Headsetsonline offers delivery Australia wide with flat shipping rates. Rest assured that customers will not be surprised with any additional fees whatever the package's size that other companies apply in all of their deliveries. This is how customers are able to rely well on the performance of the company without any doubt.
Headsetsonline makes sure to only get their products and solutions from Australian distributors and not from grey imports in order to guarantee that all products have warranties that are covered in all corners of Australia. In addition to that, it also ensures that the products pass Australian standards and certification. With Australian distributors, the company is able to provide exactly what customers in the Australian market need.
Headsetsonline operates in the online market with its secured enterprise-encrypted site, where the company's entire product portfolio is displayed for customers easy skimming and checking out. It has GeoTrust True Business UD with Extended validation for guaranteed protection.

You can have more details on this awesome product by talking to our company experts at Australia wide 1300 131 133!
Order today for FAST Delivery Australia Wide: Melbourne, Sydney, Brisbane, Queensland, Perth, Darwin, Canberra and Adelaide.
Customer Reviews
There have been no reviews for this product.