Jabra Speak 710 MS USB/BT Link 370 (7710-309)
Jabra Speak 710 MS USB/BT Link 370 (7710-309)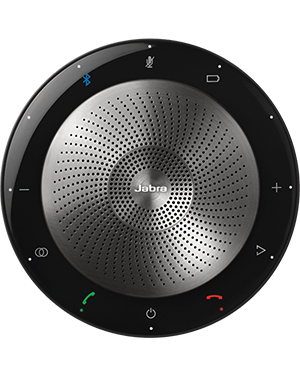 Details
Customers also bought
Reviews
Jabra Speak 710 MS USB/BT Link 370
Jabra Speak 710 MS USB/BT Link 370 is a premium and top-notch portable speakerphone that offers amazing sound perfect for conference calls and awesome on music. The device delivers an immersive sound perfect for accommodating more than 1 participant in the room. With an exclusive portable design, it offers users the flexibility they need in today's modern world. Not only does it have intuitive plug and play connectivity but it also is the most ideal device for multimedia, music, and voice because of its omni-directional microphone and HD voice. Its packaged product is comprised of Jabra Speak 710, Jabra Link 370 USB Adapter, Quick Start Guide, Neoprene Pouch, and Warranty Leaflet. Its certifications include the following:
Microsoft (Skype for Business)
Cisco (Cisco 7800 Series, Cisco 8800 Series, Cisco Jabber, Cisco VXME eLux- HP ThinPro- SUSE, and DX Series)
Avaya (Avaya Communicator, Avaya One-X Agent, and Avaya One-X Communicator)
Mitel (Mitel 68XX Series, BlueStar, and MiVoice)
Unify (Unify OpenScape Series)
Alcatel-Lucent (ALU Open Touch 8xxx, ALU OpenTouch Conversation, ALU PIMphony, and IP Desktop Softphone)
Citrix (HDX RealTime Optimisation Pack)
More Product Information
Brand:

Jabra GN

Product Type:

Speakerphone

Colour:

Black

Condition:

Brand New

Weight:

298 grams/10.51 oz

Wireless Range:

Up to 100 ft/30 m

Microphone Type:

Omni-directional

Signal-Noise Ratio:

+70 dB

Talk Time:

Up to 15 Hours

Charging Power:

USB 5V/500 mA

Charging Time:

3 Hours

Peak Output Power:

10 Watts

Charging Interface:

USB A

Connectivity:

USB 2.0/Bluetooth/USB Cord (100 cm)

Bluetooth Standard:

Bluetooth 4.0 to Bluetooth Low Energy

This innovative device is made available through our company hotline at Australia wide 1300 088 088 today!
Great Features of Jabra Speak 710 MS USB/BT Link 370
Immersive Sound for Calls and Music
Intuitive Plug and Play Connectivity
Exclusive Portable Design
Omni-directional and 360-degree Microphone
HD Voice/Wideband Audio Technology
Ideal Number of Participants: 6
HiFi-grade Speakers (Without Music Distortion at Max Volume Levels)
Full Stereo Experience through Pairign Two Jabra Speak 710 Devices
Lightweight Design
15 Hours Battery Life
Protective Travel Pouch
Compatible with MS Cortana, Siri, or Google Now
About Jabra
Jabra Corporation, a GN Netcom subsidiary, was created by Randy Granovetter and Bream Murray in January 3, 1993. Since its establishment, it has developed and produced wide selections of hads-free communications headsets and solutions for its customers. The company has its very roots starting from a Utah corporation established by inventor Elwood "Woody" Norris in the year 1983, the Norcom Electronics Corporation. From there, the company experienced many changes until it was sold to the Norris Communications, Inc., whose assets were spun off to Granovetter and Murray.
Jabra is popular for introducing and developing a lot of things. First, it is the company that invented and patented EarGels.It also developed the very first in-ear integrated microphone and speaker, as well as the popular DSP-based echo and noise cancellation technologies. And finally, it is the very first company to be able to tune a headset over the air. With these accomplishments, it is not surprising that Jabra is one of the frontrunners in the industry.
Customer Reviews
There have been no reviews for this product.