Plantronics Savi W745 Convertible DECT Headset Package
Plantronics Savi W745 Convertible DECT Headset Package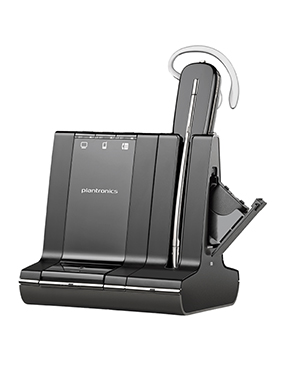 Details
Customers also bought
Reviews
Plantronics Savi W745 Convertible DECT Headset (With Deluxe Charger Cradle & Spare Battery)
The Plantronics Savi W745 Convertible DECT Headset package comes with a deluxe charger crade and spare battery, which makes it an upgrade from the usual Savi W740. This package is inclusive of the following items:
Plantronics Savi W745 Convertible DECT Headset
Deluxe Charger Cradle
Spare Battery
Plantronics Savi W745 Convertible DECT Headset Package provides users the ability to be able to manage calls from different devices (PC, desk phone, and mobile phone) wirelessly and seamlessly simply by using a single wireless headset. This is Plantronics' lightest DECT headset to ever be introduced to the market.
More Product Information
Brand:

Plantronics

Product Type:

Convertible DECT Headset Package

Wearing Style:

Over the Head, Over-the-ear, Behind the ear

Colour:

Black

Condition:

Brand New

Range:

350 feet (Between headset and base)

Maximum:

Additional 3 Headsets for Conference

Optimised For:

Unified Communications
Softphones from Avaya & Cisco
IBM, ShoreTel, & Skype

Inclusions:

Deluxe Charging Cradle
Spare Battery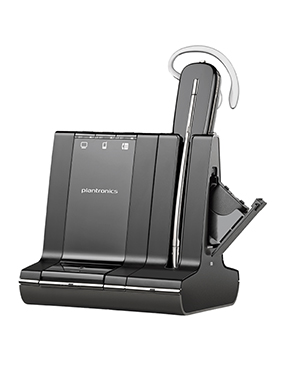 More details are made available about this headset by calling our hotline at Australia wide 1300 131 133 today.

19 Awesome Features of Plantronics Savi W745 Convertible DECT Headset
Automatic Unified Communications Presence Update on Desk Phone, PC, or Mobile Phone
DECT 6.0 Wireless Range
Energy-efficient Adaptive Power System
Seamless Transfer between Headset and Mobile Phone
Up to 3 Additional Headsets for Conferencing
3 Buttons on the Charging Base based on Connected Device: PC, Mobile Phone, or Deskphone
Noise-cancelling Microphones
One-touch Call, Answer/End, Volume +/-, Mute, and Flash
SoundGuard Digital: Protection from Sound above 118dBA
Upt o 350 feet Range Away from Desk
Advanced Wideband Audio through CAT-iq Technology
Enhanced DSP or Digital Signal Processing
Voice-dedicated DECT Technology
Softphone Call Control Using Plantronics Software
Unlimited Time with the W745 Deluxe Cradle and How Swappable Battery
Magnetic Headset Docking
Charging Base: USB to PC, via Desk Phone
Electronic Hookswitch or EHS Cables
Optional HL10 Handset Lifter Accessory

About Plantronics
Plantronics is a consumer electronics company that was founded in the year 1961.Headquartered in Santa Cruz, California, the company has operated in the global market with the help of more than 3,000 employed experts worldwide. It is popular for products that include business and consumer audio products, and corded and Bluetooth headsets.
Plantronics is popular for products and solutions that sepcialise in music, gaming, mobile usage, and unified communications. While it may be headquartered in California, the company has manufacturers and production located in Mexicon and China.
Plantronics was incorporate in August of 1988. Throughout decades of operations, it has become one of the best designers, manufacturers, and marketers of communications headsets and solutions in the international market. More than just the offer of regular products and solutions, the company also provides specialty products in the form of hearing-impaired headsets and the like. Other specialisations of the company include audio processors, PC and gaming headsets, and contact centre telecommunication products and solutions.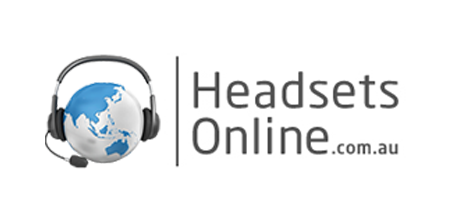 About HeadsetsOnline
Australian online store Headsetsonline Pty Ltd is a major supplier and wholesaler of audio and sound products and solutions in the country. This store started out as a part of a popular company providing the similar offers as the store in 1998 and after that has operated independently. It has used years of experience and knowledge gathering in order to effectively provide the Australian market with the most ideal products and solutions to deliver customers' needs.
Headsetsonline ensures that all of its products and solutions have high quality and this is accomplished through two specific methods. The first method includes the company's choice of getting its products and solutions from Australian distributors. With Australian distributors, products are guaranteed to pass Australian standards certification and have warranties that could be covered all over the country. The second method is through the company's process of thoroughly evaluating, testing, and cleaning of products before they are offered to the market.

More details are made available about this headset by calling our hotline at Australia wide 1300 131 133 today.
Order today for FAST Delivery Australia Wide: Melbourne, Sydney, Brisbane, Queensland, Perth, Darwin, Canberra and Adelaide.
Customer Reviews
There have been no reviews for this product.