Poly Plantronics, Savi S8220 UC, D200 USB-A, Over the Head, Stereo, DECT, Wireless Headset System, PC,209215-02
Poly Plantronics, Savi S8220 UC, D200 USB-A, Over the Head, Stereo, DECT, Wireless Headset System, PC,209215-02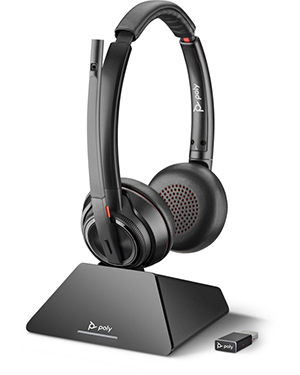 Details
Customers also bought
Reviews
Poly Plantronics Savi S8220 UC, D200 USB-A, Over the Head, Stereo, DECT, Wireless Headset System, PC (209215-02)
Poly Plantronics Savi S8220 UC, D200 USB-A, Over the Head, Stereo, DECT, Wireless Headset System, PC (209215-02) is a Stereo Wireless DECT Headset System for computer connectivity. It can seamlessly connect to PC via included USB adapter. This headset is optimized for Unified Communications. This Binaural headset also features DECT audio and active noise cancelling technology for an enhanced listening experience. This wireless device has a roaming range of up to 180m. It also provides 700 mAh battery capacity with up to 13 hours of talk time and up to 50 hours of standby time. It is fully equipped with SoundGuard Digital software to protect users against acoustic shock (85 dB). With its large encompassing faux leather earphones, you can spend a long time online comfortably. You can focus more easily while being isolated from outside noise. The weight is well distributed and allows a port with the microphone boom to the right or left depending on your preference.
Hearing every word clearly on a work call is a must-have, especially in a noisy workspace. With the Savi 8200 Office and UC Series headsets, tune out nearby noise and stay focused. Users can move, multitask, and get more done. Convenient voice prompts notify them of mute status, wireless range limit and more. Every conversation is clear with the Savi 8200 Office and UC Series headsets, with top-quality wireless DECT™ audio. The connectivity is flexible, so managing calls is effortless. People sound their best, even in noisy environments, wearing DECT™ stereo headsets with active noise cancelling to block out noise around the speaker. For sensitive conversations, where extra privacy is needed, users can turn up noise cancelling with the Close Conversation Limiting feature. It minimizes sounds around the speaker, so voices are transmitted clearly. Today's enterprise and contact center professionals work on a range of devices, from PCs and Macs to mobile phones and desk phones. Savi 8200 Office Series headset bases have 3-way connectivity - computer, desk phone and mobile phone for convenient conferencing of up to two devices at once.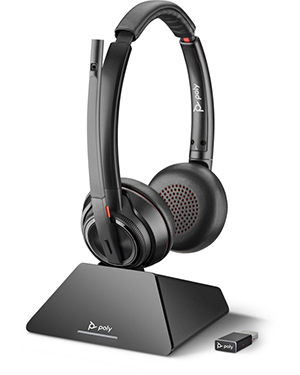 More Product Information
Brand:

Poly (Plantronics)

Product Type:

Stereo Wireless DECT Headset System

Colour:

Black

Condition:

Brand New

Connection:

Wireless

Wireless Technology:

DECT 6.0 (Savi 8200 UC Series)

Compatibility:

Unified Communications

Headset Type:

Stereo

Headset Design:

Over the Head

Do you want this device delivered to your door? Call the company now at Australia wide 1300 364 278 to make this possible!

Poly Plantronics Savi S8220 UC, D200 USB-A, Over the Head, Stereo, DECT, Wireless Headset System, PC (209215-02) Benefits Users Can Enjoy
Wireless DECT™ Headset System
Stereo Headset
Poly Savi 8200 UC Series for computer connectivity.
Optimized for Unified Communications and Microsoft Skype for Business.
Noise-cancelling microphone with Close Conversation Limiting feature.
Flexible microphone boom.
Conference on up to two devices at once.
Keep conversations private and hear clearly.
Enjoy wireless freedom—with an ample range.
People can conference up to four headsets onto a single base for training and group collaboration.
Choose the settings to customize your headsets with Plantronics Hub for desktop. Select language preference, and feature settings, and keep devices up-to-date with the latest firmware.
Plantronics Manager Pro, a software-as-a-service provides remote management, headset inventory and usage monitoring. (Sold separately)
Ideal for office and contact center employees.
About Poly (Plantronics)
Established in the year 1961 and rebranded in 2019, Poly, formerly Plantronics, is a popular frontrunner in the industry of audio and sound consumer electronics. With decades of experience in the market, it has become an expert developer and manufacturer of products and solutions in the industry, responsible of introducing wide selection of technologies and solutions. Some of the best offers that came from this company are the following:
Home & Office Communication Headsets • Telephone Headset Systems • PC Audio Devices & Accessories • Corded & Cordless Headsets • Bluetooth Headsets • Mobile Headsets • Gaming Headsets • Audio Processors
Poly currently has its headquarters located in San Jose and Santa Cruz, California. This electronics company operates in the global market and can effectively cater to customers in around 80 countries worldwide in North America, Europe, and Asia Pacific Region.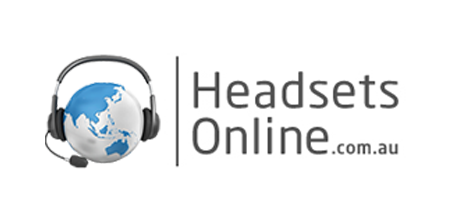 About HeadsetsOnline
Headsetsonline Pty Ltd is an Australian supplier and wholesaler of brand new and refurbished audio and sound products and solutions. The company started out as a division under another enterprise and has now become one of the best companies specializing in figuring out what customers would specifically need to meet their requirements and preferences.
Headsetsonline takes pride in providing the market with an extensive and powerful product portfolio. This product portfolio is the product of choosing the best in the market, which are Australian distributors and not grey imports. Through these distributors, all products and solutions are ensured to be Australian standards certified with warranties that can be used by customers, wherever they are in the country.
In addition to its powerful product portfolio, Headsetsonline also provides convenience as much as possible through its online store found at Headsetsonline.com.au. The store houses the entire product portfolio that offers easy access for customers who are interested.
Order today for
FAST Delivery Australia Wide

: Melbourne, Sydney, Brisbane, Queensland, Perth, Darwin, Canberra and Adelaide.
Customer Reviews
There have been no reviews for this product.