Poly Elara 60 W for Voyager 5200 w/ Voyager 5200 Headset (212951-319)
Poly Elara 60 W for Voyager 5200 w/ Voyager 5200 Headset (212951-319)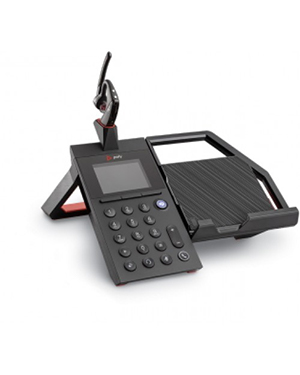 Details
Customers also bought
Reviews
Poly Elara 60 W for Voyager 5200 w/ Voyager 5200 Headset (212951-319)
The Poly Elara 60 W for Voyager 5200 w/ Voyager 5200 Headset (212951-319) is the on-desk solution for enhanced smartphone collaboration designed for mobile-first professionals. The Poly Elara 60 W is a mobile phone station that enables mobile users to benefit from desktop convenience when working in the office or from home. The headset charging doc supports the Poly Voyager 5200 Headset, a Noise Cancelling Bluetooth Earpiece which is included in this package. Poly Elara 60 W is a desktop mobile phone station that keeps your mobile charged, makes it easy to move a call from your mobile and back again, and lets you join Microsoft Teams meetings with a single touch. Headset, handset, and speakerphone options offer customized comfort plus flexibility.
The Poly Elara 60 W is compatible with both iOS and Android, offering wireless and corded charging from the adjustable viewing plate. Taking a call on the move, now you can transition any mobile call to your desktop without interruption. The adjustable viewing plate supports landscape and portrait viewing orientations for hands-free video conferencing on your smartphone. Pair with Poly Voyager 5200 Headset for the enterprise-grade sound Poly is known for. Personalize your communications choices with built-in dial pad, a range of enterprise-grade headset, speakerphone, and handset options to manage your mobile calls. And while you are on the call, your Android or iOS smartphone automatically charges with wired or optional multi-coil wireless charging. With Poly Elara 60 W, there is no provisioning and no extra wires. Users just plug it into a power outlet, pair their mobile phone and they are done. Deployment throughout the enterprise is easy. Count on time and money saved, plus greater simplicity and freedom. Workers need easy access to Microsoft Teams. With Poly Elara 60 W, Microsoft Teams can be quickly launched with just a touch of a button. The Microsoft Teams button lights up when a mobile phone is connected. And if users miss a call or notification, the LED ring around the button pulses to let them know. As well as being fully integrated with Microsoft Teams, the Poly Elara works across several platforms including Ring central, 8x8, Cisco Webex, Skype for Business, and GoTo Meeting. Use the Poly Elara 60 Series app to customize settings and update firmware. With Plantronics Manager Pro Software-as-a-Service (offered separately), you will gain insight into device usage, inventory tracking and firmware updates.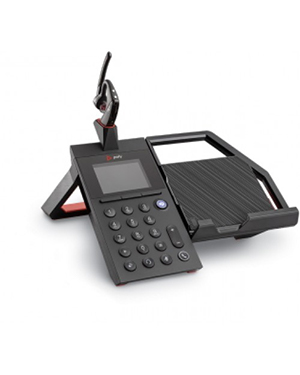 More Product Information
Brand:

Poly (Plantronics)

Product Type:

Mobile Phone Station with Bluetooth Headset

Colour:

Black

Condition:

Brand New

Connection:

Bluetooth v4.2 (including BR, EDR, BLE)

Compatibility:

Poly Voyager 5200 Headset
Voyager and Blackwire Series Headset
iOS and Android smartphones via Bluetooth

Give Headsetsonline a call today and find out more details about this product by calling Australia wide 1300 131 133 hotline!

Poly Elara 60 W for Voyager 5200 w/ Voyager 5200 Headset (212951-319) Features You Could Use
Empower your mobile-first users by transforming their smartphone into a desktop collaboration tool
Multi-device pairing and improved pairing process
Built-in dial pad plus headset, speakerphone, and handset options
No service provisioning and no extra wires—simply plug it in and pair
Compatible with the Poly Voyager 5200 Headset, Headset Included
Convenient headset integration—Voyager and Blackwire Series headset options are available
Microsoft Teams is fully integrated
Manage Microsoft Teams conferences and view notifications
Adjustable viewing plate for audio, video, chat, or web conferences
Mobile phone and headset charging capabilities
Built-in headset charging capabilities using integrated cradle
USB port for wired or multi-coil wireless mobile phone charging while you talk
Built-in Kensington lock compatibility
Play music from your smartphone with the touch of a button
Poly Elara 60 Series app keeps firmware current
Use Plantronics Manager Pro SaaS to gain insights (sold separately)
Color LCD screen displays devices, call and charge status, and settings
Works across several platforms including: Ring central, 8x8, Cisco Webex, Skype for Business, and GoTo Meeting
Ideal for Mobile-first, enterprise professionals working from the office or home office
About Poly (Plantronics)
Poly, formerly known as Plantronics, headquartered in San Jose and Santa Cruz, California, is a leading enterprise that is popular for being responsible for introducing the very first lightweight headset in the market. It was founded in 1961 and rebranded in 2019. In 1962, they launched the lightweight headset and then in 1969 demonstrated its convenience and effectiveness when Neil Armstrong used a Plantronics headset to be able to communicate to the control centre in earth by the time he landed on the moon.
Poly has established its reputation excellently by being part of these events in history. More than that though, its powerful product portfolio is the proof of its excellence. And some of these products and solutions include Small Business Communications Products and Solutions, Home and Office Headsets, Contact Centre Solutions, Unified Communications Solutions, PC Audio Devices, Bluetooth Devices, Digital Enhanced Cordless Telecommunications or DECT, Enterprise Solutions, and Gaming Headsets. All these products and solutions are offered in the global market today for customers' benefits.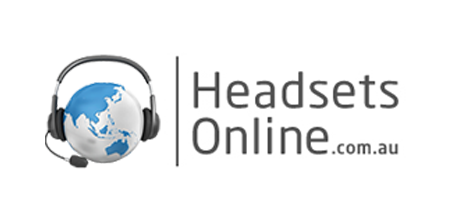 About HeadsetsOnline
Named to be one of Australia's best suppliers and wholesalers of consumer electronic products and solutions, Headsetsonline Pty Ltd has become an expert in the industry and market through its decades of experience working for another enterprise that offers the same thing as one of its divisions. This enterprise has been delivering high quality headsets since the year 1998 to popular corporate sectors and government agencies.
Headsetsonline sources all of its products and solutions from Australian distributors and not grey imports, which is how the company is able to guarantee that all of the products and solutions are Australian standards certified and all of the warranties that come along with the products and the packages are able to be applicable to customers Australia-wide. And this is not something that is common from grey imports.
Headsetsonline also completes deliveries using flat shipping rates and takes care of customers by ensuring that there are no hidden or surprise fees included in the charges, however small or big the deliveries are.
Order today for
FAST Delivery Australia Wide

: Melbourne, Sydney, Brisbane, Queensland, Perth, Darwin, Canberra and Adelaide.
Customer Reviews
There have been no reviews for this product.