Speech Voice Recognition Headsets
Speech Voice Recognition Headsets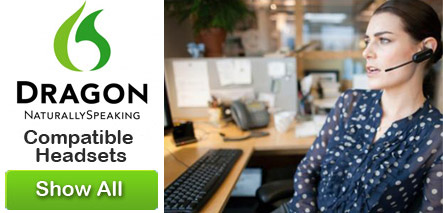 Full-featured Jabra, Sennheiser and Plantronics Speech / Voice Recognition Headsets incorporate two key technologies to achieve superior microphone performance: sophisticated noise canceling microphone proven to ensure higher speech recognition accuracy and ensures optimum voice band response which dramatically reduces distortion to achieve outstanding sound quality and accuracy.
Speech Voice Recognition Headsets
Can I get a wireless headset for Speech & Voice Recognition software?
Yes. They also connect via USB but come with a special USB DECT adaptor. This connects directly to your computer and then wirelessly transmits to your headset. If you like to walk and dictate then a wireless computer headset is absolutely brilliant. As the headset uses DECT technology the range is also much further than a normal Bluetooth computer connection and you can, in some cases, get up to 150 meters away from your PC.
Some wireless Speech Voice Recognition headsets connect to the computer via Bluetooth which is great is you want to use it for your iPad or iPhone too.
Which is the best Speech & Voice Recognition headset brand to choose?
Whether you buy a Plantronics voice recognition headset, a Sennheiser speech recognition headset or a Jabra speech recognition headset they all offer basic and advanced models so it early comes down to the features and your budget.
The best advice we can give you is to work out want you want it to do and then select the features you want on the filter. This will help you narrow down the selection dramatically – then find the model you like the look of at the price point you're willing to pay.