Dictation Headsets
What is the difference between a cheap and a more expensive Dictation headset?
There are actually a few differences that set better Dictation headsets apart from the rest: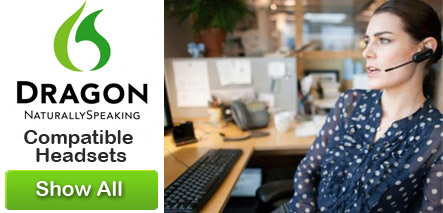 Microphone and speaker quality – advanced Dictation headsets offer features like dynamic Sound processing for reduced echo, more realistic natural sound as well as wideband audio to maximise voice recognition rate with high quality audio.
Multiple connectivity – the ability to use your headset on your PC / computer as well as your desk phone and mobile means you may pay a little more but you have one headset for all your communication!
Noise cancelling microphones - this is important if you are using the headset in an office environment.
Voice recognition software – this allows you to customise your computer headset for optimal performance with a specific program developed e.g. Nuance Dragon Naturally Speaking Voice Recognition.
Foldable for travel – this allows you to take your computer headset wherever you may go in their own travel pouch.
Stereo sound – this is achieved with a binaural headset which is better for being able to focus on Dragon Naturally Speaking dictation.
Dictation headsets - Click Here to see the FULL list.
We carry a massive range of all the leading dictate headsets to give you optimal performance and sound quality when using voice recognition software like Nuance Dragon to dictate. Some of these Speech recognition, Dragon headsets offer unified communications so you can use your computer headset with your office desk phone as even your mobile phone too. HeadsetsOnline.com.au stock all the leading computer headsets from Jabra, Sennheiser and Plantronics all at everyday low prices.