Dragon Headsets
Dragon Headsets - Click Here to see ALL compatible headsets.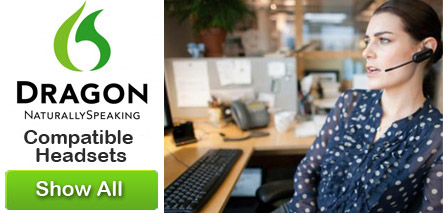 We carry a massive range of all the leading dictate headsets to give you optimal performance and sound quality when using voice recognition software like Nuance Dragon to dictate. Some of these Speech recognition, Dragon headsets offer unified communications so you can use your computer headset with your office desk phone as even your mobile phone too. HeadsetsOnline.com.au stock all the leading computer headsets from Jabra, Sennheiser and Plantronics all at everyday low prices.
What is Dragon Naturally Speaking for voice recognition software?
Dragon Naturally Speaking Premium speech recognition software lets you control your digital world by voice — three times faster than typing. Turn ideas into text at the speed of thought. Tell your PC what to do and it does it. Create documents, send email, control applications, and navigate the Web — just by talking. Use a digital voice recorder and transcribe the audio files back at your PC. Dragon is your key to less stress and more success!
Buy Online high quality dictation headsets and enjoy unprecedented speech recognition with unrivaled accuracy levels.
The primary function of a Dictation Headsets is to send a good sound signal to your computer. Many different Dictation Headsets work well, and there are many to choose from. Most popular are headset microphones. Several headset microphones in the $160-$400 range work roughly the same. Individuals may have legitimate preferences, either because voice recognition rate is better or because they are physically more comfortable.
There are differences between these Dictation Headsets such that with particular users, specific sound cards, and/or a particular environment there may be a microphone that works better than others. (Highly recommended to use Dictate Headset with Noise Cancelling for Noisy Office Environment)
Users with multiple machines that they use with speech recognition, or persons with a poor sound card as are on some PC's should consider a USB microphone, which connects to a USB port on the system instead of to the sound card.
Most USB microphones meet the minimum requirements for speech recognition. But USB is not necessarily better than analog. A good analog microphone with a good sound card can easily produce the same or even better results than a run-of-the-mill USB microphone. Computer audio systems have improved over the years, and recently we started to see "HD Audio" systems which generally have better analog sound systems than prior headset systems. Most of these work well for speech recognition, but they are not as consistent between systems as USB interfaces.

Because there are so many different computer models, we cannot tell you if an analog (round jacks) microphone will work well on your PC. That's why we generally lean towards USB microphones or a combination of an analog microphone plus a USB Audio Adapter when selling them on-line. On local installations we can quickly tell if an analog microphone is working well or not.
Microphones packaged with NaturallySpeaking can be considered "starter" or 'basic" microphones, suitable to use in a very quiet environment for learning the basics of dictation. Those included with Professional 11, Legal 11, and Medical 10.1 are better than those included with prior versions of the software and are all respectable for a quiet environment.