Accutone WT99 DECT Wireless (WT99)
Accutone WT99 DECT Wireless (WT99)
Details
Customers also bought
Reviews
Accutone WT99 DECT Wireless Telephone Headset
with
FREE

Accutone WL99

Handset Lifter

for limited time ONLY!
Pre order Now!!! Stock Due in end of March 2014
Key Product Highlights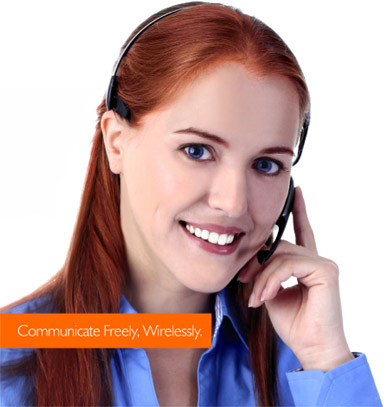 Over-the-head wireless headset
Official DECT standard frequency 1.88~1.9GHz
Generic Access Profile (GAP) compatible for Wireless PBx
Tone Adjustment function to improve voice quality
Base-station acts as charger, adaptor and lifter controller
One click button to pick and end calls
8 hrs talk time with 150 meter reception range
For those who work better when they move around, our wireless telephone headsets offer true mobility. No longer do users have to be bound by wires and cords at their desks to work effectively. Wireless solutions from Accutone combines top-end acoustics with wide range reception as well as excellent power consumption.
Accutone wireless headsets come in both DECT (GAP) standards for fixed-line telephones as well as Bluetooth standards for mobile handsets.
Accutone is proud to introduce a true DECT wireless headset conforming with the standard 1.88-1.9GHz requirement. The Accutone WT99 wireless headset system is full GAP compatible making it pairable to any wireless PBX systems. Aside from being a stand-alone wireless headset, the WT99 can also be paired with any fixed-line telephone by replacing its handset. Using the base-station as a signal transmission base as well as a charging unit, the wireless headset gives user true mobility during phone calls.
Paired with the optional automatic handset lifter WL89, users can conveniently answer and end calls away from their desks.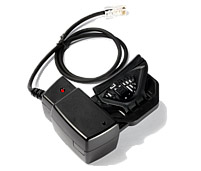 BONUS OFFER for limited time only!
FREE Accutone WL99 Handset Lifter
Accutone WL99 Automatic Telephone Handset Lifter.
Pairs with WT99 Wireless Headset
Press button on WT99 to lift handset from cradle
Enables users to answer and hang-up call away from desk
Blue LED-indicator to show if power is on
Specifications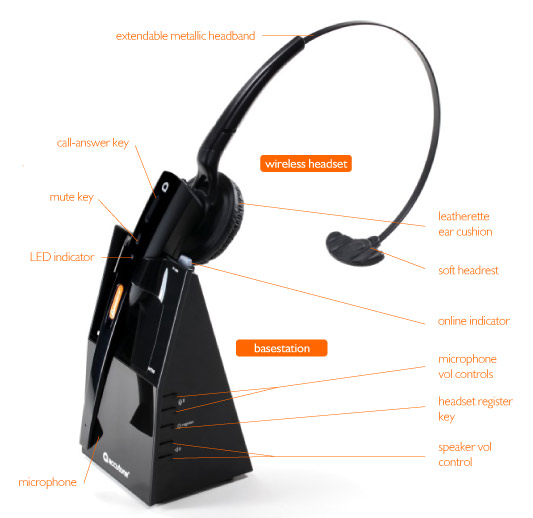 Over-the-head Design
Material: Aluminum & ABS
Frequency Bandwidth: 1880~1900MHz
Number of Channels: 10
Channel Space: 1.728MHz
Speech Coder: 32kb/s ADPCM
Modulation Type: GMSK
Data Rate: 1.152kbps
Frame Rate: 1 per 10ms
Sampling Rate: 8kHz
Headset Transmisson: 20+/-2dBm
Base Station Transmission: 20+/-2dBm
Standby time: 3 days
Talk time: 8 hours
Battery Capacity: 290mAh Lithium Polyme

Monaural Headset
Single-side earpad allows user higher awareness of the surroundings.

Wireless Headset
Wireless Headset offers complete mobility without the entanglement of cables.

Left/Right Ear Wearing
Convertible from left-ear to right-ear wearing style..

DECT Technology
Employs 1.88 ~1.9GHz Radio Frequency for European Union, Asia, Australia and South America.

GAP Compatible
Follows the Generic Access Profile, allowing pairing of the headset with Wireless PBx systems.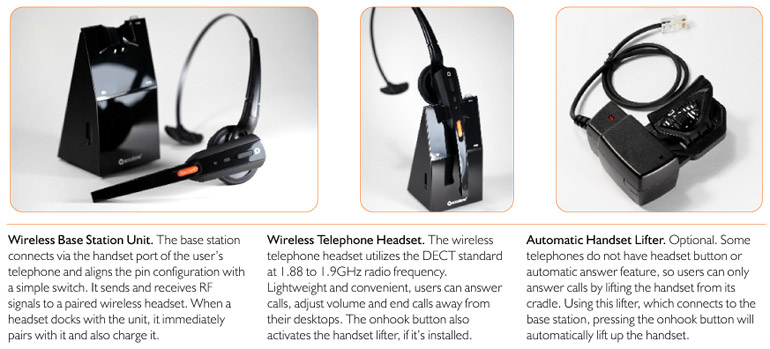 Order today for
FAST Delivery Australia Wide

: Melbourne, Sydney, Brisbane, Queensland, Perth, Darwin, Canberra and Adelaide.
Customer Reviews
There have been no reviews for this product.