Jabra ENGAGE 65 Mono Wireless Headset
Jabra ENGAGE 65 Mono Wireless Headset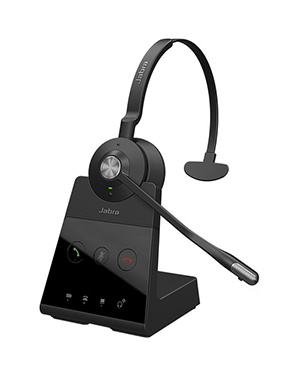 Details
Customers also bought
Reviews
Jabra ENGAGE 65 Mono Wireless Headset
This Jabra ENGAGE 65 Mono Wireless Headset is an innovative and convenient device that enables users to move around and conduct their businesses, without having to worry about the connection and wires. In fact, users are able to benefit from up to 490 feet of wireless range from the base station and crystal clear and natural communications through its integrated noise-cancelling technology.
Jabra ENGAGE 65 Mono Wireless Headset is able to support and provide better work productivity and efficiency through its headset controls, busy light, and connection to at most 2 devices simultaneously. With its headset controls, users can access innovative functions with few taps on buttons hidden within the headset, including the answer/end call button on the earcup and the mute button on the boom mic. There is also a button meant for volume adjustment.
With its integrated busy light, the Jabra ENGAGE 65 Mono Wireless Headset shows when a user is on an active call, which helps signal to everyone else that the user is not to be disturbed. This helps users focus on the work at hand and be more productive on the current task. More than that, up to 130 simultaneous users can also be catered to by the device, when using narrowband frequency and 80 users for wideband frequency.
Comfort is also a factor that must be considered and Jabra ENGAGE 65 Mono Wireless Headset provides an all-day comfort support for users. More than just its 13 hours of talk time, it is also padded, which makes wearing it all day a comfortable endeavour. It also has fast charging operation, which is pretty convenient for busy users.
More Product Information
Brand:

Jabra

Product Type:

Wireless Headset

Headset Type:

Mono

Wearing Style:

On-ear/Over-the-head

Mic Mode:

Uni-directional

Colour:

Black

Condition:

Brand New

Talk Time:

Up to 13 Hours

Charging Time:

1.5 Hours

Coverage:

Up to 490 Feet

Dimensions:

5.8 x 6.7 x 1.3 inches (W x D x H)

Weight:

2.01 oz

This innovative headset is made available to customers' access with a simple call through our hotline at Australia wide 1300 131 133.

26 Grand Features of Jabra ENGAGE 65 Mono Wireless Headset
Wireless DECT Technology
Up to 490 Feet (From Base Station)
Boom Microphone
Advanced Noise-cancelling Technology
Skype for Business Open Office Compatible
Built-in Battery
Up to 13 Hours of Talk Time
Up to 90 Minutes of Charging Time
Fast Charging Feature
Built-in One-touch Buttons
Voice-guided Menu
256-bit AES Encryption
128-bit Authentication
Narrowband Frequency: Up to 130 Simultaneous Users
Wideband Frequency: Up to 80 Simultaneous Users
Headset Controls: Answer Call, End Calls, Volume Adjustment, & Mute
Busy Red LED Light
Up to Two (2) Connected Devices (1 USB Device & 1 Desk Phone)
Replaceable Battery
Multi-shift Compatible (With Hot Disking Technology)
On-ear Headphone Form Factor
Mono Sound Output Mode
40 Hz Frequency Response
5.0 Bluetooth Version
Uni-directional Microphone Operation Mode
100 Hz Response Bandwidth

About Jabra
Jabra, headquartered today in Copenhagen, Denmark, is a business and consumer electronics company that was started by founder Elwood Norris in the year 1983. This company deals with the development and manufacture of consumer and professional audio products and solutions for the global market. With approximately 1,050 employees working under the company worldwide, it is able to successfully adapt to the fast-changing trends of technology and digital necessities.
Jabra also had its own whirlwind historical drama, stating with its acquisition by GN Audio in the year 2000. GN Audio is a subset of GN Group, which is a Danish corporation created in 1869 by C.F. Tietgen. GN Audio integrated its own CCO (Contact Centre & Office) headset department under Jabra. From there, Jabra has made a lot of leaps in terms of innovation and development. It has become popular in the niche of true wireless technology and corded and wireless headphones, along with incredible music experience and unparalleled calls.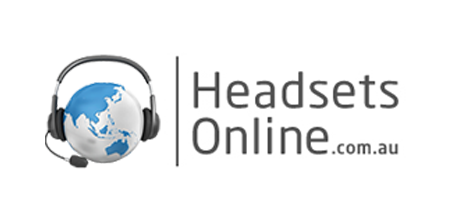 About HeadsetsOnline
HeadsetsOnline Pty Ltd is an Australian company that offers the market with selection of audio products and solutions, along with their respective accessories. The company also offers technical support and services to users who need help in utilising the devices and solutions purchased from the company. Throughout its years of operations, it has become the go-to enterprise of customers all over the Australian market, when it comes to their audio product supply and wholesale needs.
HeadsetsOnline started out as part of a reputable telecommunications company that caters to the needs of government sectors and large enterprises. It has been under the said company since 1998 and simply became an independent company with incredible experience in its own right. Currently, it provides to the general market with all sorts of audio needs, taking into account customers' requirements, preferences, and unique setups.
HeadsetsOnline conducts its transactions online through its secured site and online store, Headsetsonline.com.au.

This innovative headset is made available to customers' access with a simple call through our hotline at Australia wide 1300 131 133.
Order today for FAST Delivery Australia Wide: Melbourne, Sydney, Brisbane, Queensland, Perth, Darwin, Canberra and Adelaide.
Customer Reviews
There have been no reviews for this product.