Plantronics APS-1 CS-model EHS Hook Switch Cable works with Siemens / Aastra Phones Telephones Handsets
Plantronics APS-1 CS-model EHS Hook Switch Cable works with Siemens / Aastra Phones Telephones Handsets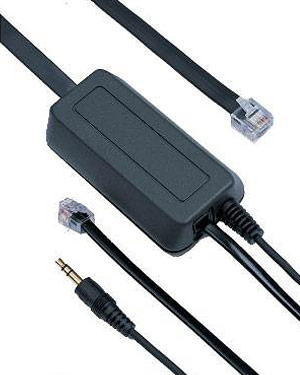 Details
Customers also bought
Reviews
Plantronics APS-1 Electronic Hookswitch Adaptor works with Siemens Phones, Telephones, Handsets
Plantronics APS-1 Electronic Hookswitch Adaptor for Siemens phones: CS wireless
Plantronics APS-1 Electronic Hookswitch (EHS) for Plantronics CS wireless Headsets (i.e. CS55, CS50, CS70N, CS351N, CS361N) works with the following telephone models:
Aastra: OpenPhone 71, OpenPhone 73, OpenPhone 75, OpenPhone 73 IP, OpenPhone 75 IP, Office 70, Office 80, Office 70IP, Office 80IP

Aastra T6739i, 6771, 6773, 6775, 6773 IP, 6775IP, 5370, 5380, 5370 IP, 5380 IP

Aastra 53i, 55i, 57i, 57i CT, 6753i*, 6755i*, 6757i*, 6757i CT* - *These phones require Part#: D0062-0011-34-00 ("DHSG CABLE KIT") from us. (require Aastra software 2.4 or newer)

Siemens OpenStage 40, OpenStage 60, OpenStage 80, Optipoint 410 with acoustic adaptor, Optipoint 420 with acoustic adaptor, Optipoint 500 with acoustic adaptor, Optipoint 600 with acoustic adaptor

Agfeo ST30 (HS-Module 30 required), ST31, ST40

Auserwald COMfortel 2500

Funkwerk CS290-U, CS410, CS410-U, IP-S400

Swyx L420s, L440, L520s, L540

T-Com Comfort Pro 100, Comfort Pro 300, Comfort Pro 300 IP, Comfort Pro 500, Comfort Pro 500 IP, F20, F30, F40, F50, F640, F660, F680, F31IP, L420s, F41 IP, L440
Plantronics APS-1 Hook Switch for Siemens Phones 38347-01
Features at a glance
Place or receive calls without a lifter
Compatible with Siemens phones
Detailed Description
The Plantronics APS-1 Electronic Hook Switch module enables a wireless headsets user to place or receive a call without the need to lift the handset, thereby eliminating the need for a mechanical device such as the Plantronics HL10 handset lifter.
The APS-1 model, part number 38347-01, is compatible with the full CS line of Plantronics wireless headsets such as the Plantronics CS55, CS70N, CS351N, CS361N, and the following phone models:
Siemens Optipoint 410 with acoustic adapter
Siemens Optipoint 420 with acoustic adapter
Siemens Optipoint 500 with acoustic adapter
Siemens Optipoint 600 with acoustic adapter
Siemens OpenStage 40
Siemens OpenStage 60
Siemens OpenStage 80
Funkwerk CS290U
Funkwerk CS410
Funkwerk CS410U
Funkwerk IP-S400
NOTE: Do not order this adapter if your phone is not listed
Order today for FAST Delivery Australia Wide: Melbourne, Sydney, Brisbane, Queensland, Perth, Darwin, Canberra and Adelaide.
Customer Reviews
There have been no reviews for this product.