Plantronics Yealink EHS36 Cable
Plantronics Yealink EHS36 Cable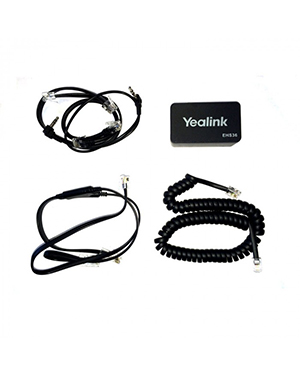 Details
Customers also bought
Reviews
Yealink EHS36 Cable
Yealink EHS36 Cable comes together with a wireless adapter that is compatible to wide selection of wireless headsets, including Plantronics, Sennheiser, and Jabra/GN Netcom. Using this cable, Electronic Hook Switches or EHS can effectively function and so would allow users to be able to answer or end calls remotely and wirelessly.
Yealink EHS36 Cable helps in getting rid of the need to use an HL10 handset lifter. Users can easily attach the adapter using this cable to the phone's EXT port for the entire device to function. This provides an easy plug-and-play connectivity, offering users more control in how they want to answer and end calls from the phone or headset.
More Product Information
Brand:

Plantronics

Product Type:

EHS Cable

Colour:

Black

Condition:

Brand New

Compatibility:

Yealink SIP T40P/T40G/T41P/T41S
Yealink SIP T48G/T48S/T46G/T46S
Yealink SIP T42G/T42S/T38G/T26P
Yealink SIP T27P/T27G/T28P/T29G
Plantronics Wireless Headsets (CS or Savi)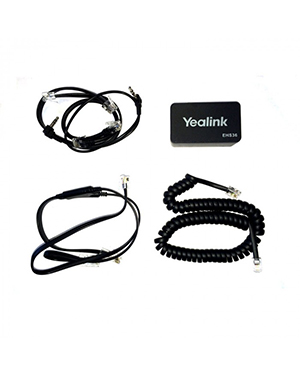 Get to know this device better through Headsetsonline hotline at Australia wide 1300 131 133 for more details!

5 Top-notch Benefits of Using Plantronics Yealink EHS Cable
Allows Users Access to Remote Desk Phone Call Control
Lets Users Answer and End Calls through Headsets Connected to the Phone
Makes It Easy for Users to Connect Headset to Phone with High Compatibility with Phone and Headset Series
Makes Remote Operation Smooth and Seamless
Allows Users to Move Around the Office while Still Being Connected

About Plantronics
Currently headquartered in Santa Cruz, California, Plantronics started its operations in the 1960s, when headsets are still designed to be big and bulky. The company became the epitome of lightweight headset in that period, which is how it gained its reputation and what it continues to prove up to its current operations. The company solidified its position in the market when Neil Armstrong's iconic words "It is one small step for man, one giant leap for mankind." came through using a Plantronics headset.
Plantronics continued to maintain this excellent reputation by developing high quality products and solutions that are integrated with cutting-edge technologies. The company provides to millions of customers all around the world, with the help of approximately 5,000 employees worldwide. More than just employed experts worldwide, the company also has many distributors, partners, and original equipment manufacturers in over 80 countries that help in its selling of products and solutions. This is how it is able to sell over 32 million headsets all over the world.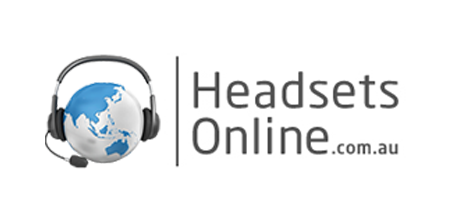 About HeadsetsOnline
Headsetsonline Pty Ltd is a reliable enterprise that specialises in providing audio and sound products and solutions to the Australian market. Its expertise in the market comes from over a decade of experience operating under the guidance of a popular company known for providing the sound needs of corporate and government sectors since 1998.
Headsetsonline is strict when it comes to its product and solution offers. Aiming to offer customers only the best, the company choose to get their offers from Australian distributors and not grey imports. With this, customers are guaranteed that what they get from the company are Australian standards certified and are covered with warranties that can be used and are covered all over Australia. This powerful product portfolio is displayed in the company's secured and enterprise-encrypted website, Headsetsonline.com.au. The site is tightly secured and protected with 2048-bit root encryption that banks use for their logins, along with 256-bit Identity Authentication, GeoTrust True Business ID with Extended Validation, and a green URL HTTPS Address Bar.

Get to know this digital phone better by calling Telephonesonline hotline at Australia wide 1300 131 133!
Order today for FAST Delivery Australia Wide: Melbourne, Sydney, Brisbane, Queensland, Perth, Darwin, Canberra and Adelaide.
Customer Reviews
There have been no reviews for this product.