Sennheiser UI 760 USB Adapter (504003)
Sennheiser UI 760 USB Adapter (504003)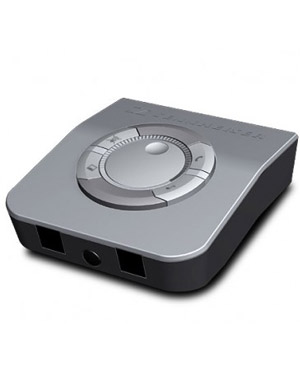 Details
Customers also bought
Reviews
Sennheiser UI 760 USB Adapter (504003)
Sennheiser UI 760 USB Adapter Passive Box works as a connector between your handset, headset and PC. With a touch of a button, easily switch back and forth between the handset to headset or handset to PC. In addition, comes with microphone mute, volume control and cable connection.
Dynamic Volume Control - keeps all call at the same volume and blocks surges in sound
Sound Clarity System filters out noise and enhances caller's voice
The UI760 is the perfect interface/amplifier for your Sennheiser CC or SH headset and telephony equipment. Use the UI760 to add more connectivity, volume control and mic mute options to a direct connect setup. Also use the UI760 as your primary communication hub for an office or call center headset workstation. Operation and integration of the UI760 is simple and intuitive, making call management enjoyable - even between multiple devices.
Features
Includes ActiveGard(TM) acoustic shock prevention
Sound Clarity System(TM) enhances caller's voice while removing noise
Up to 2 year battery life with powersave function
Direct output for economical and simple call recording
Adds volume control and mic mute to a direct connect setup
Includes C-size battery, Telephone connecting cable, Easy Disconnect cable and manual
Optional equipment: PC cable (CUIPC1), Dictaphone cable (3.5mm to 3.5mm), Headset stand
Simultaneous connection of a Sennheiser headset to telephone and PC
Compact footprint fits at any workstation
Dynamic Volume control averages volume levels of incoming calls
Delivery Includes
1.5 volt C-size battery (IEC LR 14 C)
Telephone connecting cable (RJ 9 4/4)
Modular to Easy Disconnect cable (Headset bottom cable)
Instruction Manual
Hook hanger (hook with self adhesive tape)
Optional:
Headset stand – for easy storage of headset. The 3-in-1 kit consists of headset stand, desk mount, fixation kit
Dictaphone cable 3.5 mm jack to 3.5 mm jack (for voice recording)
PC interface cable - RJ 9 4/4 to 2 x 3.5 mm jack
PC USB interface cable - modular to USB
Works With
CC 510
CC 515
CC 515 IP
CC 520
CC 520 IP
CC 530
CC 540
CC 550
CC 550 IP
SH 230
SH 230 IP
SH 230 IP USB
SH 250
SH 300
SH 330
SH 330 IP
SH 335
SH 350
SH 350 IP
Customer Reviews
There have been no reviews for this product.