Jabra ENGAGE 75 Mono Headset
Jabra ENGAGE 75 Mono Headset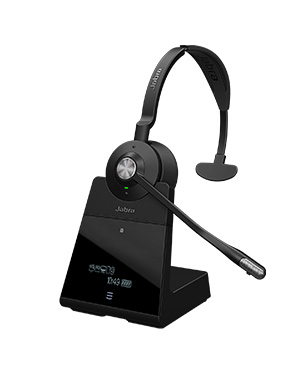 Jabra ENGAGE 75 Mono Headset
Jabra ENGAGE 75 Mono Headset is a leading professional DECT wireless headset that has been structured to help users boost their work productivity and support customer satisfaction. It delivers incredible customer connections, supporting users with powerful wireless connectivity up to 150 metres of range. It promises crystal clear and natural calls aided by enhanced speakers and advanced noise-cancelling microphone, integrated with intelligent volume control.
Compatible to Skype for Business Open Office, this Jabra ENGAGE 75 Mono Headset is also able to help users with their work productivity by giving them more time to talk without getting interrupted. This is through the 13 hours talk time of the device and an integrated busy light that serves as a DND sign for the entire office, signalling that users are focused on the work at hand. More than that, since the device can be connected to five (5) devices, users can receive and make calls from those devices using 1 wireless headset. These devices include the following:
Two (2) USB Devices (Softphone and/or Deskphone) ● Two (2) Bluetooth Devices ● One (1) Analogue Deskphone
More Product Information
Brand:

Jabra

Product Type:

Wireless Headset

Headset Type:

Mono

Wearing Style:

Over-the-head & Over-the-neck

Colour:

Black

Condition:

Brand New

Range:

Up to 150 Metres

Talk Time:

Up to 13 Hours

Standby Time:

Up to 52 Hours

Charging Time:

Up to 1.5 Hours

Dimensions:

5.8 x 1.3 x 6.7 inches (W x D x H)

Weight:

1.98 oz

Note:

Neckband and headband are sold separately

Get this awesome wireless headset today! Call our representatives through our company line: Australia wide 1300 131 133!

Jabra ENGAGE 75 Mono Headset Features & Benefits for All Users to Enjoy
Up to 150 Metres Range
Advanced Noise-cancelling Microphone
Enhanced Speakers with Intelligent Volume Control
Skype for Business Open Office Requirements
Up to 13 Hours of Talk Time
Up to 52 Hours of Standby Time
Up to 1.5 Hours of Recharging Time
Integrated Busy Light (Do Not Disturb Sign)
Connects Up to Give (5) Devices

Two (2) USB Devices (Softphone & Deskphone)
Two (2) Bluetooth Devices
One (1) Analogue Deskphone

3x Wireless Density
Bluetooth Profiles:

Hands-free Profile (HFP)
Headset Profile (HSP)
Phonebook Access Profile (PBAP)

40 Hz Frequency Response
1.1 in Diaphragm
In-cord Volume Control
Bluetooth 5.0 Connectivity
100 Hz Microphone Response Bandwidth
100 Hz to 10,000 Hz Uni-directional Audio Input
Audio Controls: Answer/End, Mute, Reject Call, & Volume
Controls: Mute, Volume, Answer/End, & Reject Call

About Jabra
Established in the year 1869, Jabra has made a name for itself in consumer electronics industry, particularly in the audio and communications niche. The company has become an expert in showcasing engineering superior sound in its products and solutions, showing people how powerful quality audio experience can be influential in their work productivity and efficiency. With this in mind, it has devoted its efforts in the research and development of technologies and systems that can empower just that.
Jabra operates in the global market to improve audio quality both for music and calls, which means that the company improves more than just work elements but also supports leisure and just. Being under GN Group, who have been leading the industry through incredible communication solutions for more than a century now, has been an excellent power behind the company's operations. It showcases excellent features and functionalities, including:
Active Noise Cancellation (ANC) ● In-ear Heart Rate Monitors ● One-touch Access to Voice Assistant ● SmartSound ● AI (Artificial Intelligence) Microphones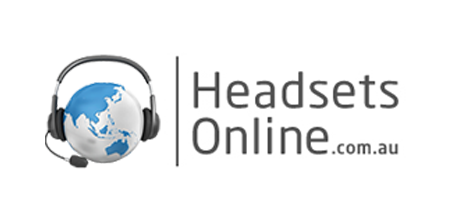 About HeadsetsOnline
An Australian audio communications corporation, HeadsetsOnline Pty Ltd is a reliable online store that houses wide variety of audio devices, systems, and solutions to help customers in all sorts of consumer and communication needs. The company has focused on delivering customers all of their needs at an incredible quality and through a convenient means.
HeadsetsOnline has been devoted in ensuring that only the best products and solutions are offered to its customers, which is why the company deals with reputable Australian distributors and avoid grey imports. It also conducts thorough product testing and evaluation before all items and solutions are put into the store shelf for customers' access.
HeadsetsOnline also offers its customers convenience by providing them access to the entire product portfolio through its secured and user-friendly online store located at Headsetsonline.com.au. This online store can be accessed by customers whenever they need to and wherever they are in the country for easy purchasing and delivery.

Get this awesome wireless headset today! Call our representatives through our company line: Australia wide 1300 131 133!
Order today for FAST Delivery Australia Wide: Melbourne, Sydney, Brisbane, Queensland, Perth, Darwin, Canberra and Adelaide.
Customer Reviews
There have been no reviews for this product.